Inbound Marketing Methodology: More than Just a Fad?
You can't browse a marketing blog these days without seeing the word "inbound" over and over. Is it just a trend, soon to be replaced by the next hot marketing concept?
Here's the truth. Inbound marketing is more than just a buzzword...it's one of the most important marketing techniques for online business growth. And it's definitely here to stay.
The inbound marketing methodology is an organic, honest, and effective growth marketing strategy that matches your amazing product or service with people who will benefit from it.
The inbound technique transforms strangers into loyal customers...so loyal, in fact, that they ultimately become part of your strategy by promoting your business for you!
It's actually pretty simple to understand, too.
3 Stages of the Inbound Marketing Methodology: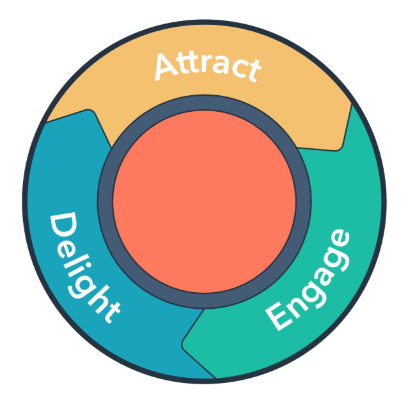 Image from: HubSpot
Stage 1: Attract leads
When it comes to attracting potential customers, inbound marketing is like casting a fishing line with the perfect bait, in the ideal location, to catch just the right fish.
Outbound marketing (like cold-calling, direct mail, etc) is like throwing out a giant net and hoping you scoop up something valuable…spoiler alert, you're gonna reel in a lot of useless stuff.
But, your potential customers aren't fish. They're intelligent human beings with access to search engines and social media.
In the Attraction stage, you turn a stranger into a visitor by driving brand awareness and the product you offer.
The inbound methodology requires that you provide value to a potential customer, usually things like:
Informative blog posts that answer common questions, provide expert knowledge, etc.


Content offers and lead magnets like e-books, "how-to"s, or white papers


Social media content like engaging posts and videos


Web content like reviews and testimonials
All of these forms of inbound content rely on search engine optimization (SEO) to bring in the people who want and need them. Including keywords and phrases related to your product and the way you solve your audience's challenges makes your content "findable" online.
The best part of SEO is that, once a visitor finds your inbound content, you can be pretty confident that they're part of your target audience.


Stage 2: Engage with leads
Once you've drawn a visitor in to view your content, the next step is to engage them.
In this phase, you lay the groundwork for a long-term relationship with the lead. It's important that your inbound content provides value for the visitor AND sells your brand greatness. You need to say "here's what I can do for you" and "this is who I am" at the same time.
The inbound marketing methodology doesn't require much hard selling. You'll want to work a call-to-action into your content, but it should be precluded by plenty of substance. If you've done a good job communicating the solutions you offer, the lead should naturally and organically progress to your call-to-action and ultimately convert into a customer.


Stage 3: Delight leads
The inbound marketing methodology is a cycle, not a one-time process.
Your customers are STILL your leads. Ensure that they feel satisfied and supported by remaining helpful, staying in contact, and responding to feedback.
Reach out to your customers with information on how to use new features. Send surveys to gather ideas for improvement. Monitor social media and respond to questions, concerns, and praise.
Sometimes, businesses skimp on the Delight phase because it does not bring revenue in the short-term. Your customers may purchase again in the future, but that's not the only reason to treat them well. A positive customer experience is key to a satisfied customer, and likely to become your "promoter," bringing brand new leads to your doorstep. Initiate positive interactions with your customers and respond to their concerns with diligence.


Need some help?
If you're ready to set the inbound marketing cycle in motion for your business, but not sure where to start, reach out to the experts at Tobe for a free consult.