As we embark upon a new decade, it's more important than ever to adapt our marketing strategies to changing technology and consumer preferences. At the helm of these changes is the rise of video marketing. Is your video marketing strategy on par with the rest of the business world? Here are some quick stats:
Between 2018 and 2019, the number of businesses using video marketing increased from 63% to 87%.
Businesses publish an average of 18 videos per month
85% of businesses now use internal staff and resources to produce video content
Why all the fuss? Well, it's because video is one of THE most effective forms of content to attract leads and move them through the inbound funnel.
Here's what the video marketing funnel looks like: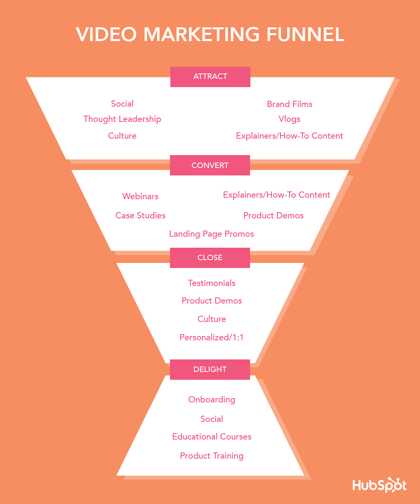 Top-Of-Funnel: Using Video to Attract

At the first stage of the video marketing funnel, your job is to offer value and garner interest. It's important that all video content at this stage embodies your brand voice and brand personality. Your videos should target specific buyer personas with helpful content and videos that showcase your brand.
Here's what kinds of videos to use at the top of the funnel (TOFU):
Video blogs: Yep, just like your regular blogs (but easier to consume because there's minimal reading).


How-to videos: You know how the saying goes, "Teach a man how to fish, and he'll sign up for your emails." Or something like that.


Explainers: Break down complicated subjects for grateful viewers.

Company culture Go behind the scenes, introduce your staff, or capture your team at work in the community. Showcase your unique culture.


Mini features/brand films: Tell your story in a creative way and appeal to emotions. Heartstrings are just waiting to be tugged!
Middle-of-Funnel: Using Video to Convert
After your lead has learned about your business, discovered what challenges you solve, and taken advantage of your helpful video content, they move to the middle of the funnel (MOFU). Now your goal is to use video to continue to demonstrate value and delve deeper into how you can meet the needs of your prospects.
Here are the best types of videos to convert leads:
Product demos: They know you manufacture thingamajigs, but do they know how a thingamajig WORKS? Show them!


Case studies: Don't just tell 'em, show 'em! Few tactics are more convincing to leads than real-life examples of how your product or service has helped people just like them.


Webinars: Your leads need information, and you've got plenty! Compile your hard-earned expertise into a webinar and get conversions in return.


Landing page promos: Perhaps a freebie will get their interest? Include strategically placed videos promoting special offers, "freemiums", and more.
Bottom-of-Funnel: Using Video to Close
When your lead is interested and engaged but hasn't taken the plunge yet, they're at the bottom of the funnel (BOFU). Video at this stage is imperative to win over a new customer and close the sale.
Here are the types of videos that help you close leads:
FAQs: Maybe your client has questions they haven't asked, or assumed an incorrect answer. FAQs cut through objections, and are especially impactful in video form.


Side-by-side comparisons: You know you've got an edge over your competitors, but do your leads get it? Show your leads exactly how you do things better than anyone else in the game.


Full demos: Now that your lead is very familiar with who you are and what your business does, a full demo can help them picture exactly how your product or service will fit into their operations. Videos at this stage can even be customized to your client's particular needs.
Keep 'em Coming Back: Using Video to Delight
We call it a funnel, but really it's a cycle. Video marketing can help you maintain a connection with your leads, ensure client satisfaction, and gain referrals and repeat business.
Here are the types of videos that help you delight your customers post-sale:
Video blogs: Just because they've already purchased doesn't mean they're done with all your useful content! Keep demonstrating value through high-quality vlogs.


Social: Stay top-of-mind and provide opportunities for engagement through social video content.


Industry, brand or product updates: These are a great opportunity to reach out and remind your customers that you're still working to improve their experience long after a sale has been made.


Case studies: Do you have a client using your product or service in a new and interesting way? Share it in a video.


Personalized walkthroughs/Educational courses: Have we mentioned that you should continuously strive to demonstrate value? Maybe once or twice. Elevate customer satisfaction with personalized video content that helps them use one of your services or navigate a tricky industry change.
Are your video offerings meeting the changing demands of inbound marketing? Don't hesitate to reach out to the experts at Tobe if you could use another look at your video strategy. Happy filming!