So you're ready to start your YouTube marketing journey! First of all, kudos—this is a wise decision and the beginning of a game-changing content strategy. It's important to familiarize yourself with several angles of YouTube best practices, from timing to SEO and analytics.
Here's how to rank YouTube videos and video podcasts to increase your ROI:
1. Complete YouTube SEO research
The process begins by researching YouTube video keywords. First, generate a list of potential keywords. TubeBuddy and VidIQ are good extensions to help generate relevant keywords and tags for YouTube.
Then, head over to YouTube's search feature and type in some keywords and phrases. You'll see dozens of valuable keyword options that YouTube users actually search for.
Tip: adding an asterisk before or after your keywords acts as a "wild card" to bring up a more diverse range of suggestions.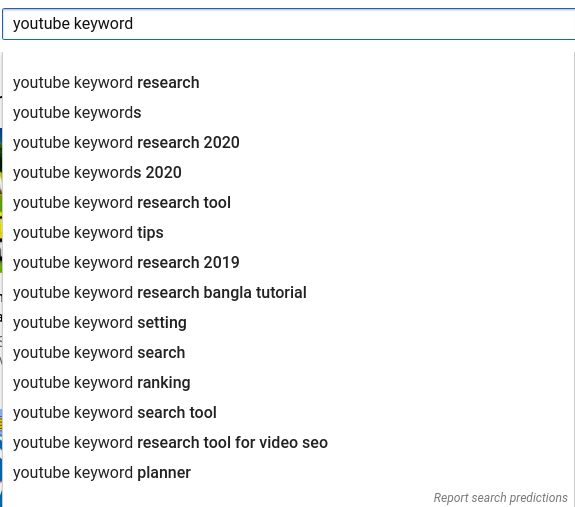 Take a look at the most popular videos ranked for your topic. You should be able to find their keywords in the title, description, and tags. If these keywords are relevant to your topic and user query, include them in your SEO strategy.
2. Pick your keywords
Now that you've done your YouTube keyword research, you're ready to select the ones you'll be using for your video.
If your channel is new or has few subscribers stick to low-competition keywords. A good way to do this is to pop your keyword into Google and take a look at the number of results.
Use "site:YouTube*" to limit results to YouTube videos.
"YouTube SEO" has 266,000,000 results...not a great candidate for a low-competition keyword.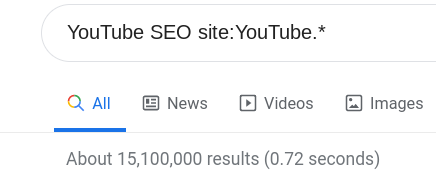 "YouTube SEO Best Practices" might be a better bet for this example, with 207,000 results: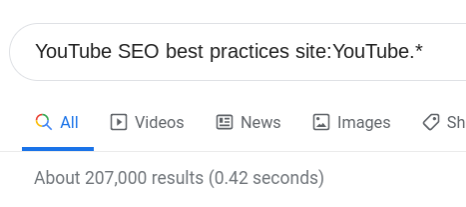 3. Optimize according to YouTube best practices
YouTube SEO involves four key areas: your video title, the video description, the transcript, and your video tags.
Video title: Your title should be at least five words long and allow for placement of your top keywords without keyword stuffing.

Video description: This is more than just a summary of your video. This is a place for some serious SEO. Place your keyword in the first 25 words of your description, and include it around four times total.
Your description should be at least 250 words, which won't be difficult considering you have plenty to include! Keywords, links, context, key points, etc., will all help YouTube (and Google) understand what your video is about and rank accordingly.
Video transcript: YouTube automatically transcribes video content. Make sure you SAY your keywords multiple times throughout the course of the video to ensure that your transcript is optimized.

Video tags: Tags are essentially keywords that help YouTube and Google understand the subject of your video.
Choose 5-8 tags that best describe what your video is about. Cramming dozens of tags in may seem like a good idea, but it's more important to YouTube's algorithm to make the topic of the video very clear.
4. Understand YouTube Analytics
View your analytics through YouTube.com/analytics. You'll receive data such as demographics, how many of your viewers are subscribers, the reach of your channel, and engagement metrics.
Engagement is a particularly important area of focus as YouTube factors engagement into its ranking algorithm.
The length of time people spend watching your video, the comments they leave, and whether or not they subscribe to your channel after a view are all engagement metrics that affect your ranking. Use this information to help you choose content, topics, and video formats moving forward.
Be sure to check your Traffic Source report. This will show you what search terms people are using to find your content. Typically, this list will include keywords you're already using, but you may find some surprises that you can use to improve your YouTube SEO.
The Traffic Source report will also help you learn how to promote your YouTube channel because you can see where your viewers are coming from. For example, if most people are navigating in from your website, that's a great place to increase your promotion efforts.
5. Find a good publishing cadence
Ideally, you'll be uploading 2 to 4 videos per week for a business channel.
Try to post between 2pm and 4pm CST on weekdays to give YouTube time to index your video before prime viewing hours in the evening.
The best time to post on YouTube on weekends is between 10am and 11am CST as viewers are on YouTube throughout the day.
6. Build your YouTube branding
You may only have a few seconds to entice someone to watch your content and keep their interest throughout the video. Great YouTube branding helps you get the job done:
Put thought into your channel banner: Your channel banner should help viewers understand what kind of content you offer, how often you upload videos, and what your brand personality is like. All this information is important to help viewers decide whether they might like to subscribe.

Create awesome thumbnails: A thumbnail is like a billboard for your video...only much, much smaller. Use eye-catching graphics and purposeful, minimal text to grab attention and set expectations for the content of the video.

Use consistent thumbnail design (format, colors, etc.) to add cohesiveness to your YouTube branding and make your videos easily recognizable as belonging to your channel.
Use lower thirds in your videos: Lower thirds are the graphics/text that appear in a video to identify a speaker or give context to the topic being discussed. Resources like Adobe have tons of lower thirds to choose from, or you can design your own. Make sure to brand them by using your business name and important credentials.
These YouTube best practices will give you a solid foundation to build a thriving channel. Could you use some extra guidance from the experts at Tobe? Drop us a line, we're ready to jump in!